Ketika hardisk di komputer mulai terasa lambat di akses atau sudah penuh dengan berbagai macam software yang di install, ada saatnya kita mulai men-defragmentasi hardisk tersebut. Defragment secara mudah adalah menata ulang lokasi file di hardisk agar performa komputer meningkat.
Meskipun Windows atau sistem operasi lain sudah menyertakan fitur defragmentasi, ada baiknya kita mencoba menggunakan software pihak ketiga.
Berikut 7 Software gratis defragmenter yang bisa dijadikan alternatif atau pengganti bawaan windows:
Ultra Defrag
Ultra Defrag merupakan software defragmentasi Open source. Tersedia versi installer atau portable, termasuk pula versi Command-line. UKuran software ini cukup kecil, hanya sekitar 277 KB.
Download Ultra Defrag ( 277 KB)
MyDefrag
Sebelumnya bernama JKDefrag (Open Source), tetapi sekarang berganti menjadi MyDefrag dan tidak open source, tetapi tetap Freeware. MyDefrag menggunakan teknik seperti yang digunakan Windows, sehingga fitur penuh hanya dapat digunakan oleh user yang mempunyai hak akses administrator.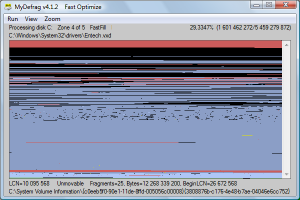 Support : Windows 2000, 2003, XP, Vista, 2008, Win7
Download MyDefrag (2.0 MB)
Defraggler
Mungkin sebagian kita tidak asing dengan software CCleaner, nah Defraggler merupakan salah satu software gratis dari pembuat CCleaner. Defraggler menggunakan teknik yang sama seperti windows, tetapi dengan tampilan dan beberapa fitur tambahan lain.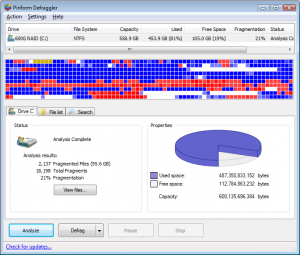 Support : Microsoft Windows 7, Vista, XP, 2003 dan 2000.
Download Defraggler Atau Mirror Defraggler ( 4 MB)
Auslogics Disk Defrag
Auslogic memberikan berbagai fitur defragment, mulai dari defragment and optimize, system files smart placement, menjaga zona MFT tetap jelas, kustomisasi defrag dan lainnya. Tersedia juga versi portable.
Support : Windows 7 / Vista / 2008 / XP
Download : Auslogic disk defrag (2.15 MB) Auslogic versi Portable
DiskTune
Tampilan software ini cukup sederhana, lebih mirip dengan bawaan windows. Teknik ayng digunakan adalah Defrag, Optimize dan Compact. Fitur yang unik adalah akan berhenti defragment jika suhu hardisk terlalu panas. Fitur selengkapnya silahkan melihat Halaman DiskTune http://www.diydatarecovery.nl/DiskTune.htm
Support: Windows XP, 2003 Server, Vista (32-bit and 64-bit)
Download DiskTune (1.06 MB)
SmartDefrag
SmartDefrag merupakan salah ssatu produk dari Iobit, pembuat Iobit Advance system care. SmartDefrag dapat berjalan di background, sehingga bisa berjalan ketika sedang menggunakan aplikasi windows. Fitur defragment yang disediakan seperi program defragmenter lainnya.
Support : Windows® Vista™, XP, 2000. and Windows® 7
Download : Smart Defrag (3.83 MB)
QuickSys Disk Defrag
QuickSys mungkin masih pendatang baru di bidang ini. Saat artikel ini ditulis, QuickSys Disk Defrag masih versi beta. Tetapi mempunyai fitur yang tidak kalah dengan yang lain, seperti misalnya QSICA (Quicksys Intelligent Clusters Allocation) untuk Optimisasi clusters. Selain versi Installasi, tersedia juga versi Portable.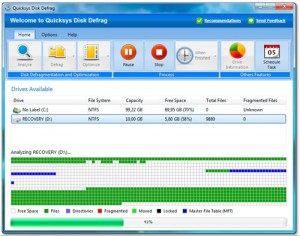 Support : Windows 2000/XP/2003/Vista/2008/Seven
Download QuickSys Disk Defrag atau Mirror Quicksys (3.83 MB) QuickSys Portable (1.4 MB)
Untuk perbandingan mana yang terbaik, saya sendiri belum sempat mencoba dan mengetes mana yang terbaik. Silahkan berbagi informasi jika sudah atau mencoba salah satu program diatas. (ebsoft)
Sumber; http://ebsoft.web.id/2010/02/16/7-software-gratis-defragmentasi-hardisk/